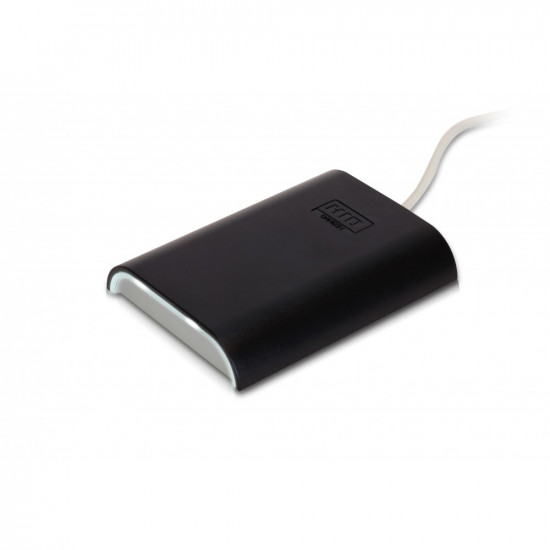 HID® OMNIKEY® 5427 CK (Gen1) Dual Contactless Reader 13.56MHZ and 125KHZ
The HID® OMNIKEY® 5427 CK reader from HID Global combines a modern design and a small footprint whilst also providing functionality in virtually any PC environment. Creating new market opportunities for system integrators, this reader supports low and high-frequency technologies within a single device. The OMNIKEY® 5427 CK is the perfect solution for mixed credential technology environments and also provides a seamless migration path for organisations.
The OMNIKEY® 5427 CK also provides a CCID or Keyboard Wedge interface that is independent of the operating system. Eliminating the need to install or maintain drivers, this reader is also incredibly easy to use via a web-based management tool that allows for easy and intuitive configuration.
This reader is most commonly used for secure print solutions, access control systems and PC login using existing credentials. Take a look below at some of the key features of the OMNIKEY® 5427 CK.
Ease of Use – Provides straight forward utilisation of existing access control credentials for PC login
CCID Support – Eliminates the need to install drivers on major operating systems.
Keyboard Wedge Functionality – Allows data from the card to be retrieved/transformed for direct input into applications using keystroke emulation. This eliminates the need for organisations to manually enter card data.
Security - Enhanced system security providing support for low and high-frequency credentials including but not limited to HID Prox ®, Indala Prox, MIFARE® Classic, MIFARE DESFire® EV1, iCLASS®, and iCLASS SE.
Flexibility – There are also several accessories and mounting options available.
This is the Gen 1 Unit. For more information on The Gen 2 unit, which is a direct replacement for Gen 1 by HID, please see that particular product page and the attached datasheets.
Specification
Part Number
R54270001
Type
Contactless / CCID
Brand
Omnikey
10+ £76.91
50+ £76.91
100+ £75.95
500+ £75.48
Stock:

In Stock

Model:

R-HD-R54270001

Availability:

DISPATCH BY 10/05
Omnikey