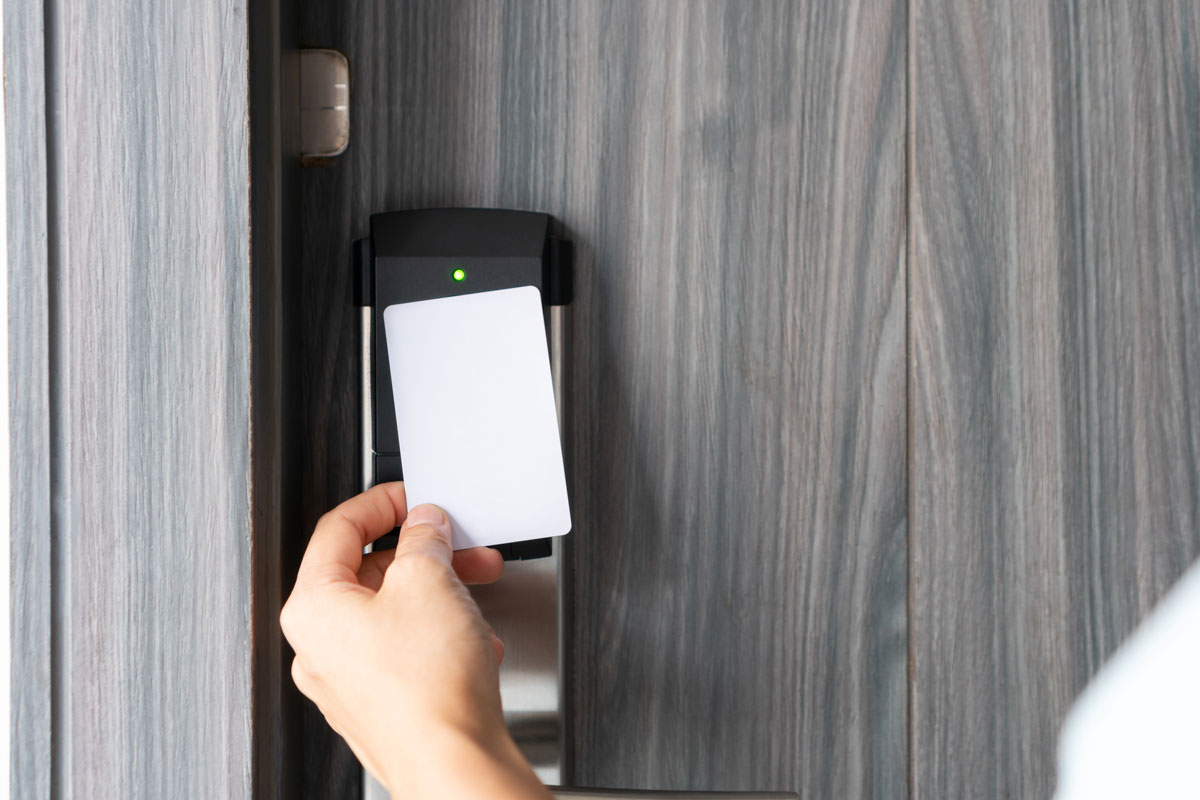 Hotels have been using smart cards to improve the guest experience for a while now. If you've stayed in a hotel in the last few years, you've probably been given a hotel key card rather than a traditional door key. Smart cards are more convenient and offer a wider range of additional features and benefits.
Hotel key cards are now an essential part of any hotel's operations. The most successful hotels are those that offer luxury, individuality, and comfort. In today's competitive market, guests demand the best from their hotel, and only the most extraordinary service will do. To succeed, hotels must go above and beyond to deliver an exceptional experience.
By offering a unique combination of amenities, services, and perks, hotels can create an unforgettable experience that keeps guests coming back for more. And that's where hotel smart cards come in.


How Hotel Smart Cards Work
These days, hotel smart cards are becoming more and more common. These cards offer several advantages for both hotel staff and guests. Let's take a closer look at how they work.
Although there are many types of smart cards, when it comes to hotel smart cards, there are two main types: magstripe and RFID cards. Magstripe cards are the most common type of hotel key card, and they work by storing data on a magnetic stripe that is read by a door lock for hotels. RFID cards, on the other hand, use radio frequency identification to communicate with hotel door locks and other card readers.
Mag stripe or swipe cards are a cost-effective option, but they tend to wear out more quickly and are less secure than other options. This works well for many hotels, especially if they only use their card for the basics, such as room access.
RFID cards are more durable, but, as you'd expect, they do cost more.
If your hotel is still using traditional magstripe cards, you may be missing out on some of the benefits that hotel smart cards can provide. RFID smart cards can include additional information about the user, such as their name, check-in and check-out dates, room number, and more.
This information can be used to streamline the check-in process, as well as to provide personalised service during the guest's stay. Hotel smart cards can also be used to access other hotel services, such as the fitness centre or spa. And because hotel smart cards are often linked to the room key, they can also be used to track when guests enter and exit their rooms. As a result, this type of hotel smart card can provide a wealth of benefits for both guests and hotel staff.
RFID hotel key cards are becoming more popular because they are more durable and offer greater security than magstripe cards. When it comes to choosing a hotel smart card, it is important to weigh the pros and cons of each type to find the one that best meets your needs.


How Hotels Can Use Smart Cards
Smart cards can be used for a lot more than simply room access (although they're great for that too). Here are some additional uses of hotel smart cards that you may not have considered:
Hotel Access Control
While hotel smart cards are nothing new, they are becoming increasingly popular as a means of providing access control for both guests and staff. And they're for more than just room access. By using smart cards, hotels can keep track of who is coming and going and provide a more secure environment for guests and employees.
Hotel Amenity Access
Hoteliers can use smart card technology to control access to hotel amenities like parking, gyms, and event rooms. For example, the hotel staff could deactivate a guest's smartcard access to the gym if they didn't purchase a day pass. This system is convenient for both hotel guests and staff.
Guests don't have to carry around multiple cards or worry about losing them, and hotel staff can quickly and easily revoke access to certain areas. When guests are looking closer at hotel amenities than ever, this system helps hoteliers keep track of who is using what amenities and when. You can then use this information to upsell guests or tailor their marketing campaigns.
Hotel On-Site Payments
Hotel facilities such as bars and restaurants can use RFID technology to streamline the payment process. If your guests have a hotel smart card that contains room-charge information, they can simply pay with their hotel key card, with the cost added to their final bill. This same card can also be used for door locks in hotels, so guests don't have to carry around a separate key or multiple cards.
Hotel Staff ID
Hotel smart cards are becoming increasingly popular as an identity verification and identification solution for hotel employees. The hotel employee can use the hotel smart card to access the hotel's door locks, time clocks, and hotel amenities. The hotel smart card can also be used to track staff work hours and annual leave, making them an easy and efficient way to identify hotel employees and keep track of their work hours.
Visitor Badges
Tradespeople and other visitors to hotel rooms can use smart cards instead of traditional keys, too. The card can also be used to track the tradesperson's movements and to provide hotel staff with details of their whereabouts. The system is designed to improve security and efficiency and make it easier for hotel staff to keep track of who is in the hotel and where they are — making hotel stays more secure and convenient for everyone involved.
For Hotel Events
Hotel smart cards are an essential part of event access control. They ensure that only the right event attendees can access booked event spaces. Smart cards are more secure than traditional paper tickets, and they offer many benefits for both organisers and attendees.
For organisers, hotel smart cards provide a convenient way to keep track of who is attending an event. They can also be used to restrict access to certain areas of the event space. For attendees, hotel smart cards provide a quick and easy way to get into the event space, improving security and preventing unauthorised access to the event.
Loyalty Programs
Hotel smart cards can also be used as part of hotel loyalty programs to offer hotel guests a variety of benefits, such as receiving discounts on hotel services. Additionally, hotel guests can use their hotel smart card to track their hotel stay and earn reward points that can be redeemed for free nights or upgrades. By using hotel smart cards as loyalty cards, you can offer hotel guests a more convenient and efficient way to enjoy their hotel stay.


A Note on Other RFID Uses
RFID tags have a wide range of potential uses in hotels, from inventory management to theft prevention. For example, RFID tags on minibar items can alert hotel staff to low stock levels, or tags attached to employee uniforms can help hotels keep track of laundry processes. RFID tags can also be used to prevent the theft of frequent so-called "souvenirs", such as pillows and hair dryers. By tracking when these items leave the building, you and your hotel staff can recover stolen items before they disappear for good. Implementing an RFID system can help hoteliers save money and increase efficiency.


The Benefits of Using Hotel Smart Cards
Hotel smart cards are becoming increasingly popular in the hospitality industry for a variety of reasons. From providing a more convenient and efficient check-in process to serving as a photo ID and contactless key, smart cards offer several benefits for both hotel guests and staff. Let's take a closer look at some of the top benefits of using hotel smart cards.
Complete Convenience
Guests appreciate the convenience of being able to use their smart card to access their room, as well as any common areas or services that require a key card. Smart cards can also be used to make purchases at on-site restaurants or shops.
Smart Efficiency
Smart cards streamline the check-in process by eliminating the need for guests to fill out paper forms or provide identification multiple times. Smart cards can also be used to track guest preferences and quickly retrieve information about a guest's stay history.
Photo ID
A major advantage of using smart cards is that they can serve as a photo ID. This can be helpful for security purposes, as well as for identifying guests who may have lost their key card. Most hotels choose to produce their photo ID cards in-house by using an ID card printer. The majority of these printers can be ordered with encoding options that allow the hotel administrator complete control over who has access rights.
Cost-effective
Smart cards are much cheaper than traditional keys. They also mean a lot less paperwork, saving costs there, too. And, because they can be reused, there's no need for you to buy new cards regularly.
Branding and Marketing
Smart cards provide an excellent opportunity to promote your brand and marketing messages through custom printing and design. You can also include loyalty program information or other offers on your smart card to encourage guests to return in the future.
Improved Security
Because smartcards contain unique identifiers and encryption technology, they are difficult to copy or hack. This helps to protect your guests' information and ensures that only authorised individuals have access to your property.
Personalisation Options
Many hotel smartcards are now personalised with the guest's name and profile information. This allows staff members to quickly identify guests by name and helps ensure that each guest receives the best possible service.
Additionally, programmable features on some smartcards allow you to tailor the experience for each guest based on preferences or needs.
Easily Deactivated
Because hotel smartcards are encoded with unique information, they can be conveniently deactivated if lost or stolen. This helps prevent unauthorised access to your property and protects both your guests' information and your bottom line.
Infection Prevention
Antimicrobial smart cards help avoid the spread of infections such as Covid. They also help avoid disease spread by being contactless in high-touch locations, a priority in today's climate. This means that they can be used on high-touch surfaces without spreading germs or bacteria. By reducing contact between guests and staff, smartcards help create a safer environment for everyone.
Smart cards offer a convenient way to improve the overall experience for everyone in the hospitality industry. If you're not already using hotel smart cards at your property, now is the time to consider making the switch!


Hotel Smart Card Alternatives
If you're looking for an RFID solution that doesn't involve a card, there are plenty of other form factor options to choose from. RFID key fobs can be attached to a key ring or lanyard, making them easy to keep track of. And wristbands are a popular choice for hotel events. They're easy to use and wear, and they offer all the same advantages as smart cards. So if you're looking for an alternative to the original smart card, there are plenty of options to choose from.


Smart Cards and Hotels — The Perfect Combination
A hotel's success depends on efficient operations and a great guest experience — hotel smart cards help with both. Smart cards can be used for hotel door locks, access to amenities like the spa or business centre, and even for room service or entry to events. Having a record of who has access to what helps hotel staff manage the hotel better and make it more secure. Plus, guests appreciate not having to keep track of multiple key cards or fobs. One card can do it all. Hotel smart cards make life easier for hotel staff and guests alike.
At Universal Smart Cards, we understand that every hotel has different needs when it comes to its door lock system. That's why we offer a variety of hotel smart cards, each with its unique benefits. Whether you're looking for a more secure solution, a more cost-effective option, or a smart card capable of doing everything possible, we have the right card for you.
And if you're not sure which card is best for your hotel, our team of experts is always happy to help. So please don't hesitate to get in touch. We'll be more than happy to guide you to the perfect hotel smart card solution for your specific needs.