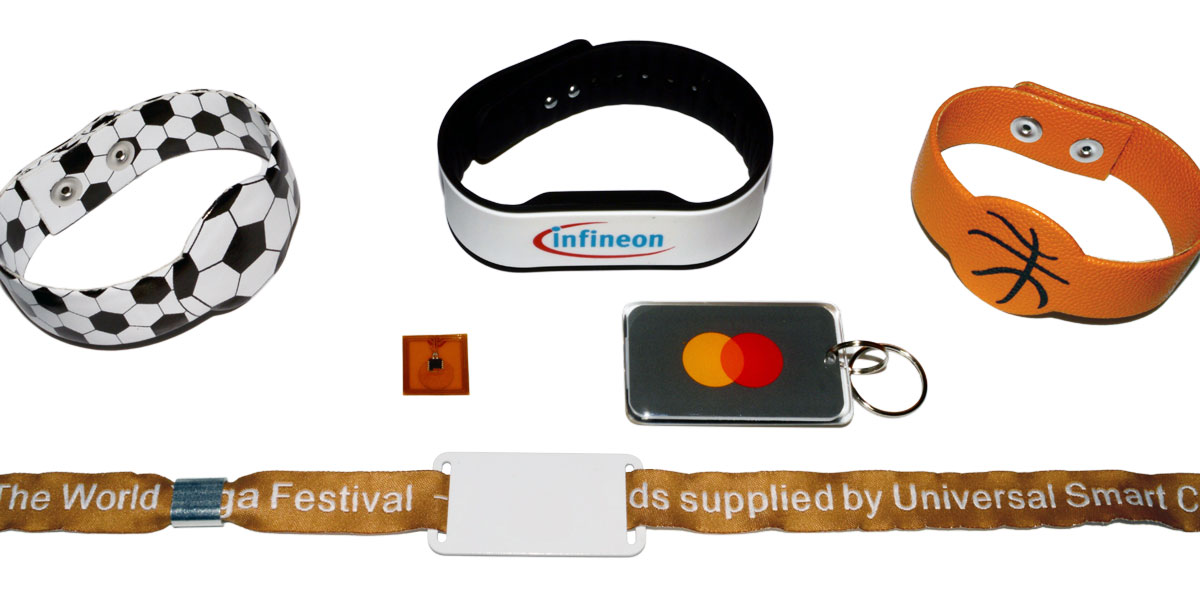 Payment in Wearable Products
'Universal Pay' enables banks, prepaid issuers, wearable manufacturers, and consumer brands to implement Payment in both Smart Objects and Wearables.
Contactless payment has become the most common way for many people to conveniently pay for low-value purchases. Universal Smart Cards is helping customers to take advantage of this rapidly growing eco-system by helping with full-scale deployment. This can vary from tags, inserts, wristbands, keyfobs or high value fashion accessories.
---
What are the steps that Universal Pay can solve?
Designing and Building Smart Objects and Wearables
- Tags & Inserts for third-party integration
- Wristbands & Keyfobs including branding
- Mastercard OEM Device certification
Managed Fulfilment Service
- Secure provisioning of the wearable
- Carrier design & Packaging
- Warehousing
- Distribution & Postage
Website Build & Hosting
- Consumer ordering portal
- Fully integrated into our managed fulfilment service
Account Provisioning
- Pre-pay
- MDES tokenisation
---
Designing and Building Smart Objects and Wearables
For design and prototyping, Universal Smart Cards works in tandem with our specialist design consultant who has been involved in contactless card technology since 2003 when developing test devices for actual evaluation of new contactless payment devices.
We can help customers designing, evaluating, and tuning antennas for smart objects and wearables.
We usually engage in the following steps:
- Initial scoping meeting – getting as much information as possible including drawings and details of the materials required
- Prototyping – includes CAD design, antenna design, and tuning of the antenna/chip combination.
- Representative prototyping to take through pre-certification.
- MasterCard OEM device certification
- Final manufacture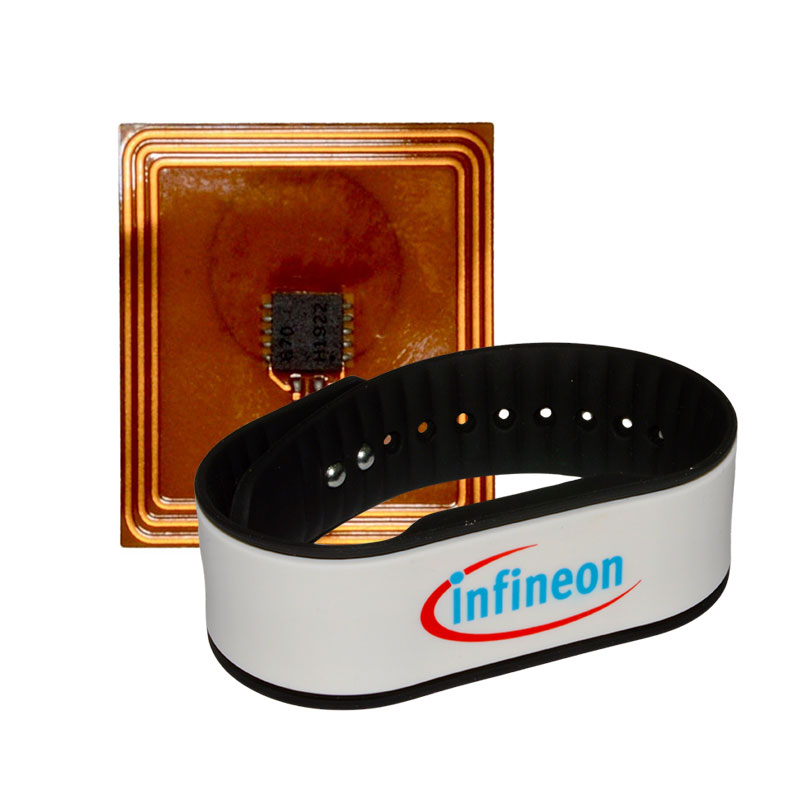 ---
Manufacture of Smart OR Removable Objects (including Design and Branding)…
Universal Smart Cards can manufacture Keyfobs, Wristbands, Insert Tags, Labels & FPCB/Inlay to support the bespoke needs of a customer. We can change either the specific branding or offer alternative design concepts.
PLEASE CLICK ON THE LINKS BELOW FOR MORE INFORMATION.
---
Account Provisoning
Enabling wearables to be used for payments is a particular challenge, this is due to the complex ecosystem which is difficult to enter. Provisioning payment products is often costly, time-consuming and requires specialist expertise and knowledge. For example, the payments industry has exacting security requirements.
Furthermore, to meet card scheme and regulatory requirements it will be necessary to involve a licensed financial institution. By working with our partner DIGISEQ, Universal overcomes these challenges by working with a partner that can facilitate the setup of contactless payment with a tokenised or pre-payment issuer/program manager.
Services include:
Request Tokens
DIGISEQ's systems request Mastercard tokens on behalf of issuing banks. (Note: A token is a replacement of your customer's Primary Account Number, reducing the risk of fraud.)
PREPARE &DELIVER PAYMENT DATA SECURELY
As a Trusted Service Manager that is PCI CP compliant, DIGISEQ prepares and delivers your customers' data into any payment approved chip at Universal's Smart Card's Technical and Fulfilment Centre.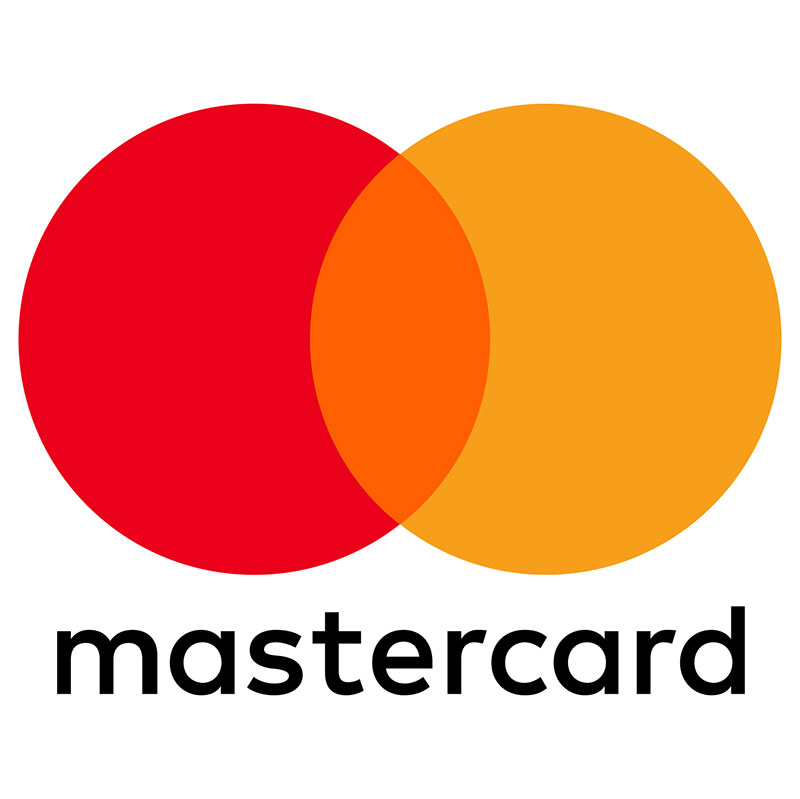 ---
Managed Fulfilment Services
Account loading is where we load the sensitive payment data onto the "security element" inside the wearable or payment chip and payment logic is provisioned.
All our provisioning is done from out UK-based technical centre where the data is loaded onto the chip using our secure payment devices.
Our in-house fulfilment service is designed to complement the personalisation of your smart products. We have a range of services that we can provide to get yourcards and devices into the hands of your users. This includes storage, packaging, mailing services and postal/courier.
---
Website Hosting Services
For companies wanting to introduce their own range of payment in wearables, the complexities of ordering, coding, logistics and supporting the technology can seem daunting. Therefore, Universal have developed a white label website that can handle the process for you.
Within two weeks we can brand our system to meet your company guidelines, upload the items you wish to sell or give way, and then integrate this with the software needed to link the wearable with a bank account.
Our white label system has been tested and used by several European banks and makes the process of adding payment in wearables to your range very cost-effective and highly efficient.
Secure Hosting
We house our servers in highly secure, ultra-modern Tier 4 data centres located in Maidenhead, Reading, Nottingham, Wakefield, and Manchester, on a network backed by BGP redundancy. Our data centre is ISO 9001, 14001 and 27001 compliant. Tier 4 data centres have all the main ISO and security accreditations implemented by default. Facilities are monitored by video surveillance as well as security guards 24x7x365 Days.
---
Dramatic Rise in Contactless Payment
According to a new report from Tractica in RetailDIVE transaction volumes on wearables will have gone over $501 billion by 2020 and continue to grow at a compound annual growth rate of 177%.
Another report from Globe Newswire reported that the global contactless payment market size was valued at US$ 1.05 trillion by transaction value in 2019 and predicted to register a compound annual growth rate (CAGR) of around 20.01% during period 2020 to 2027. Full Report
According to Mastercard themselves, Europe experienced an eightfold increase in the uptake of contactless payment transactions in 2019: Mastercard, 2019). Full Report
Making a dramatic impact on these figures is the coronavirus health crisis and the ability to make payment without the need to touch a reader or handle cash. According to Oliver Wyman and 'COVID-19 AND European Retail Payments' they expect contactless transactions to account for 27% of POS transactions (in value) by the end of 2021 (vs 8% in July 2019).
The Salesforce Q1 Shopping Index, that analysed data from one billion global shoppers, re-enforced this view showing how global buying habits are changing due to COVID-19 pandemic. Full Report
---
Convenience and Safety
Imagine attending a crowded venue and being able to leave your purse or wallet at home and making purchases with a wearable including paying for your transport there and back. How easy would that be?
Consumers are now looking for the ease and convenience of paying using something they are wearing or personally carrying, giving organisations and wearable manufacturers an ideal way to promote their products and brand as innovative and creating a USP for their items. It gives users the convenience of being able to pay quickly using contactless even when they do not have their cards with them.
In addition, the security is enhanced, not only at large events but in everyday shopping. It can reduce the chance of users losing cash or cards and having them stolen, after all it is far more noticeable having someone steal something you are wearing, as opposed to them simply taking something from your bag or pickpocketing you.
Ben Gilby, Mastercard Senior Vice President, according to Jumpstart in an interview said "As we see contactless being adopted more and more in things like fast food, coffee outlets, and, on transit, I think we're going to see wearables become more popular, simply because of the convenience factor for the user – no longer any need to pull out your phone, to transact. [You] simply use your watch, your wearable, your sunglasses, your key fob, to actually transact."
With the dramatic rise in contactless forecast in the future, why not look at Universal Pay, and how you can make Contactless Payment in Wearables a reality. We have a service provision ready to go that can streamline implementation.
---
Crystal & Epoxy Keyfobs
Combining a stylish, modern look with practicality and RFID technology, the latest range of Crystal and Epoxy Key Fobs are perfect for a wide range of applications in multiple sectors, particularly handy in high-use environments.
Available in a range of sizes and shapes: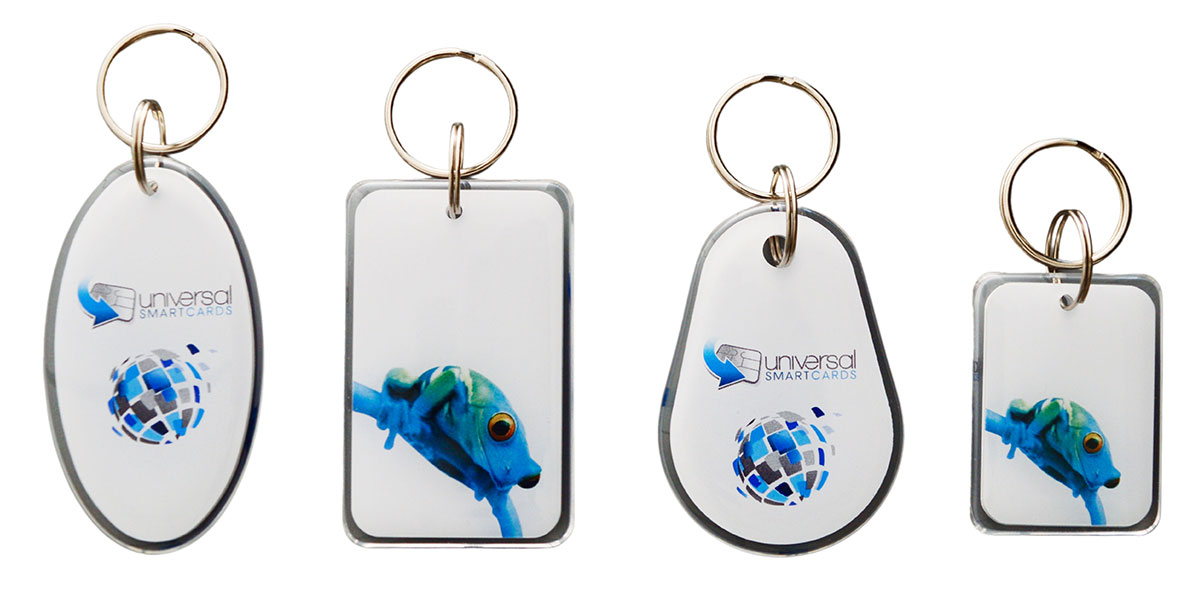 Sizes available:
- 30x 50mm (rectangular)
- 25x35mm (rectangular)
- 28.5mm x 54mm (oval)
- 32mmx48mm (bulb)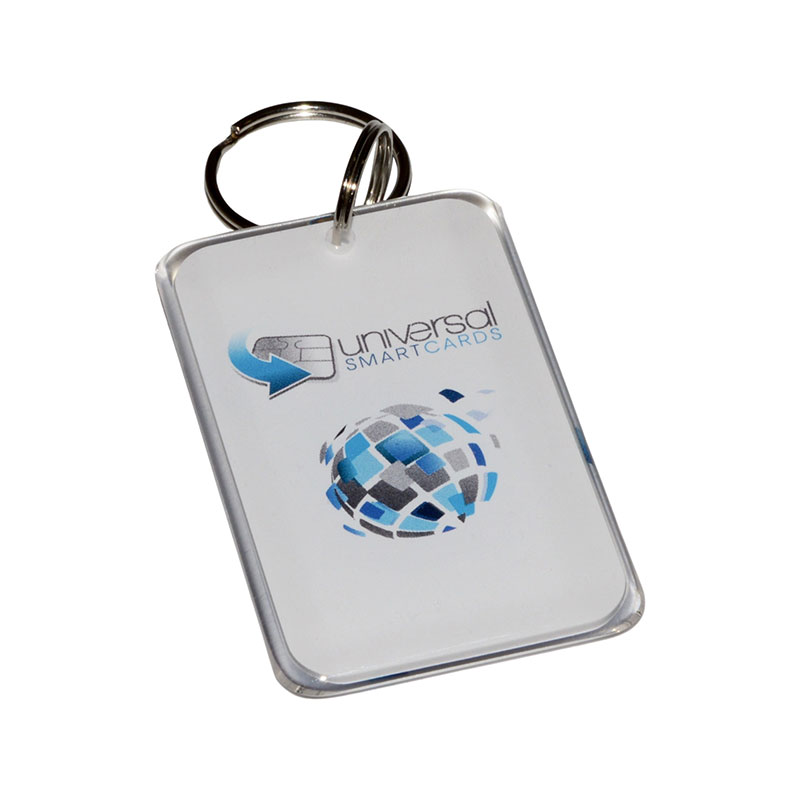 Crystal key fobs are like our standard Epoxy Fobs but will give a longer lifespan due to their enhanced quality. This is because of the transparent protection along all sides of the product meaning they are totally encased inside the durable epoxy crystal. They are completely waterproof, dustproof and contain no air bubbles inside.
Inside the epoxy crystal is an inner PVC layer that is ideal for branding. We can print any design in high-quality offset print to give a bank quality finish on both sides.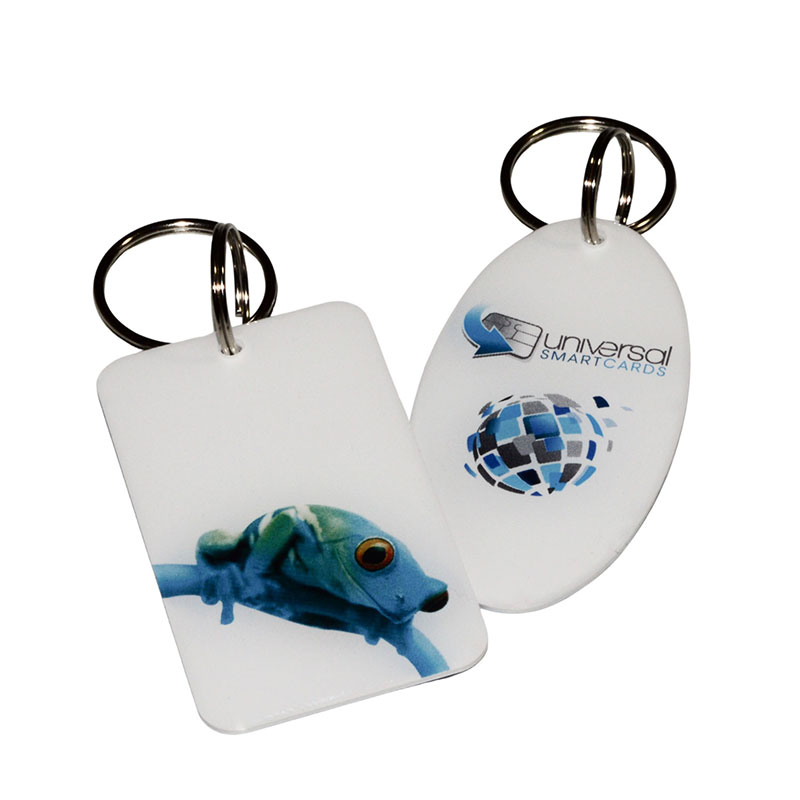 These are an alternative design concept to Crystal as the epoxy gives good protection to the front and back of the inner PVC layer. However, the epoxy is finely aesthetically curved to the outside edge rather than fully encased at the sides.
The same inner PVC layer is used inside the same as our Crystal Keyfob enabling full branding. We can print any designs in high-quality offset print to give a bank quality finish on both sides.
---
FPCB / Inlay Tags
One of the key factors to consider is the size of the tag to fit inside the design of the intended wearable whilst ensuring a high enough read distance for a safe contactless transaction. The tags are designed for manufacturers to insert inside their wearable to enable a seamless contactless experience by the customer without them knowing it is there.
Universal Smart Cards provide customised passive payment tags that can be flexibly inserted or integrated into any plastic, fabric, or leather wearable for rapid deployment.
Please get in touch to discuss the size and shape of tag you need.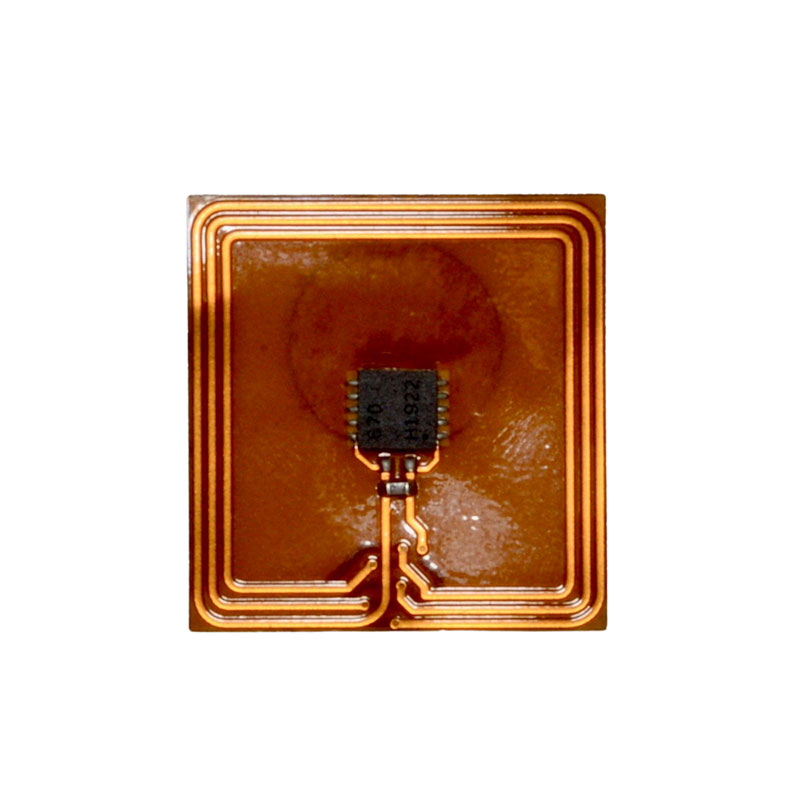 ---
Insert Tags
PPS Tags
Universal Smart Cards brought these tags to the market as a rugged embeddable form factor for contactless payment. The payment chip IC is encased into a hard PPS casing making them extremely hard wearing and versatile.
Measuring 20mm x 30mm x 3m, they are an excellent choice for withstanding high temperature ranges and suitable for embedding into products needing contactless payment with a ruggedness for withstanding day to day usage.
Please get in touch for further information.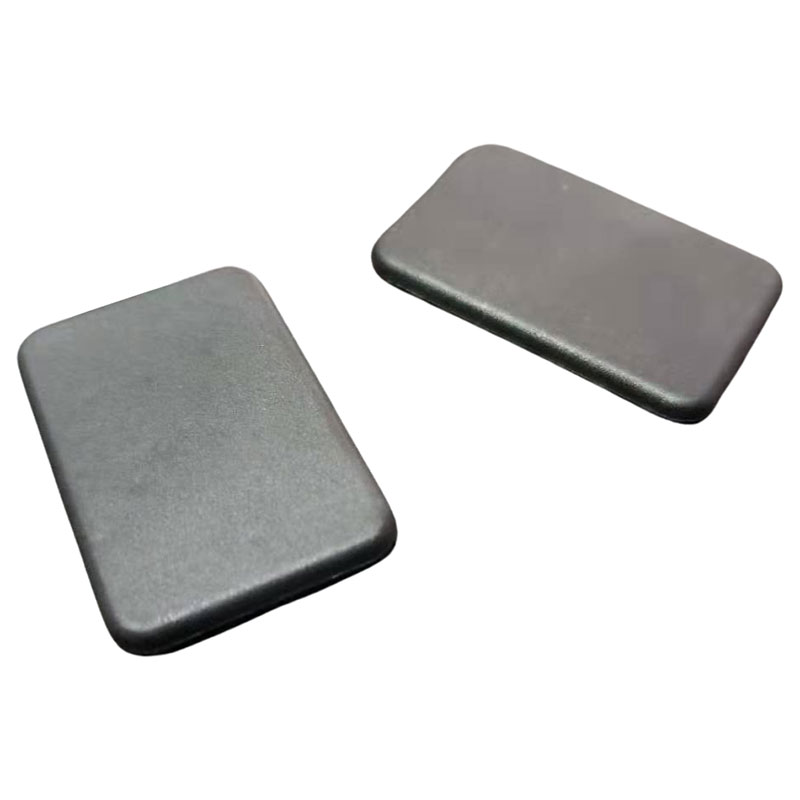 ---
Wristbands
Silicon Adjustable
These silicone adjustable wristbands offer contactless payment within a practical housing making them easy to wear around the wrist. The wristbands are 260mm x 27mm wide to fit all wrist sizes. They are extremely robust as the silicon protects the sealed electronic unit inside. The wristbands have an adjustable strap to fit any wrist size. They are also fully waterproof. They are heavier than the standard silicone bands and are a more premium product.
They are ideal for EMV payment, closed loop payment schemes, events, promotions, and leisure facilities including swimming pools, gyms and clubs that want to offer a more customised device.
They are available in a range of colours and the entire wristband can be fully personalised with your branding.
Please get in touch for further information.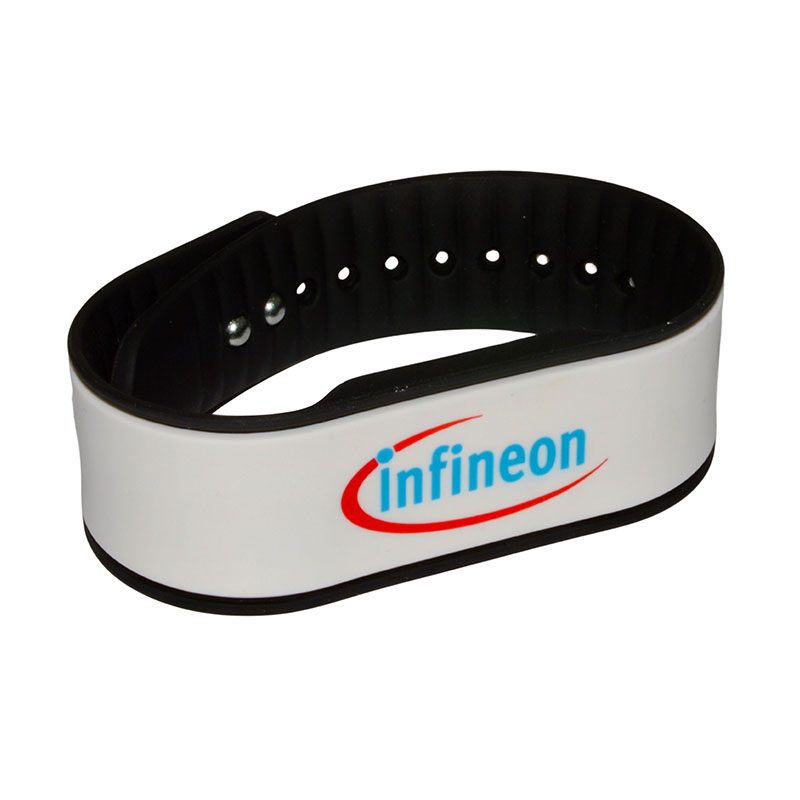 Disposable/Festival
A lower-cost alternative wristband is our disposable festival band. There are various styles including a 350mm strap made from Cotton and threaded through a laminated PVC tag. Alternatively, a Velcro strap like the image below can be requested.
The festival tags are fully waterproof and rugged enough to withstand several uses. Both the strap and the PVC tag can be fully customised to your bespoke design including use of colours, logo's, and text.
They are popular in festivals, concerts or any membership events requiring a low cost or disposable solution.
Please get in touch for further information.