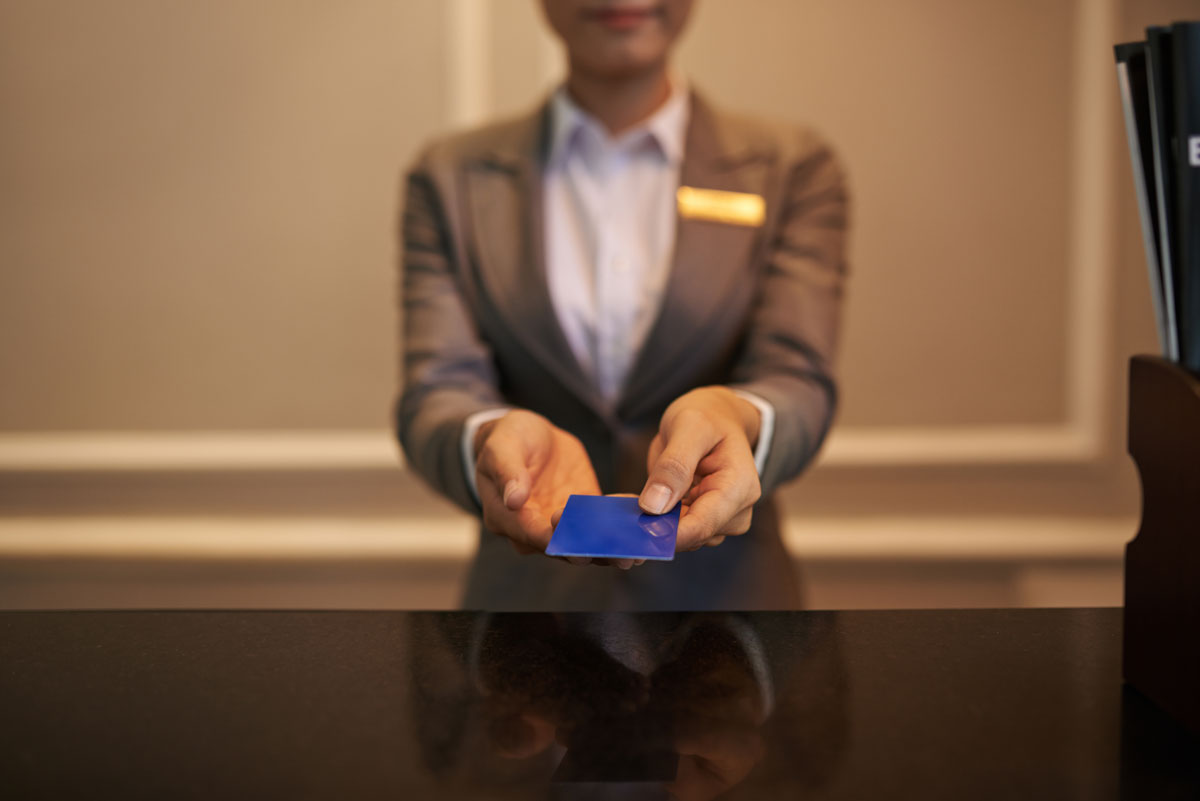 In the hospitality industry, providing excellent customer service is essential to success. Today, there are many ways to use technology to improve the guest experience, and one of the most effective is through the use of a hotel smart card system. Smart cards can be used in a variety of ways to make hotel services more efficient and convenient for guests. In this post, we will explore some of the ways hotel smart cards can be used to improve hotel services.


Keyless Entry
Keyless entry eliminates the need for guests to keep track of a physical key during their stay. Guests can easily store their hotel smart cards in their wallets or purse and simply swipe at the door to enter their rooms. This not only saves them the hassle of keeping track of a key, but it also reduces the chances of them losing their key and being locked out of their room.
In addition to being more convenient for guests, keyless entry is also more secure. Physical keys can be easily lost or stolen, but a hotel smart card can be stored safely and disabled if a loss does happen. This makes access control easier to monitor, helps to prevent unauthorised entry to guest rooms, and keeps both guests and their belongings safe.
Keyless entry can also save hotels time and money. With physical keys, hotels have to worry about replacing lost or stolen keys or even entire door locks. With keyless entry, there's no need to worry about any of that. Plus, hotels can use data from keyless entry systems to better understand how guests are using the property and make improvements accordingly.


Checking Out
Although there are many types of smart cards available, a hotel smart card most commonly works by storing information on a microchip. This information can be accessed by swiping the card through or tapping against a card reader. The card reader then transmits the data stored on the microchip to the hotel's computer system.
One of the most important benefits of using a hotel smart card system is that it can streamline the check-out process. When a guest is ready to check out, they simply need to transfer data to the card reader, and their bill will be automatically generated.
This gets rid of the need for guests to fill out paper forms or provide their credit card information to the hotel staff. Additionally, it means hotel staff don't have to manually input information into the system.
Another benefit of using hotel smart cards is that they can be used as a method of payment upon check-out. This streamlines the check-out process further and makes it more convenient for both guests and hotel staff.
It's important to note that payment details are not stored on the card itself. Instead, the card is linked to the hotel's secure information regarding payment details. So when a guest is checking out, their smart card will automatically tally up all of their charges (including any bar or restaurant spending) and present the final cost. This can be verified by the guest, and then payment can be made quickly and easily.


Customer Tracking
By tracking your customers' purchases, you can get a better idea of their spending habits and preferences. This information can be used to improve your marketing efforts and targeted promotions. Additionally, if a customer has a problem with a purchase, you'll be able to look up their purchase history and find a solution quickly and painlessly.
By tracking customer purchases, hotels can provide a more personalised experience to their guests. For example, if a guest frequently purchases items from the minibar, the hotel could send them a coupon for a free drink upon their next stay. These little touches can go a long way in terms of customer satisfaction and loyalty.
There are many benefits of using smart cards to track customer purchases in hotels. By doing so, hotels can gather data on their guests' spending habits which can then be used to target services and special offers.


Customer Loyalty Schemes
If you own a hotel, then you know how important it is to keep your guests coming back. Customer loyalty programs are a great way to do this, and by using a hotel smart card as a loyalty card that stores customer loyalty points, you can make it easy for your guests to keep track of their points and redeem them for rewards.
Smart cards offer a more convenient way for guests to keep track of their loyalty points. They can simply swipe their card every time they stay at your hotel or make a purchase in your hotel's gift shop or restaurant.
Your guests can carry their smart card with them wherever they go, which means they can easily check their balance and redeem their points without having to search for a paper loyalty card and manually update their info. Smart cards are also straightforward to use. Guests can add points to their hotel smart card with just a few taps and redeem their points for rewards just as easily.
Smart cards also offer improved data tracking for hotels. With paper punch cards, it's difficult to keep track of how many times a guest has stayed at your hotel or how much they've spent. With smart cards, you can easily view this information and use it to better tailor your marketing efforts and improve your overall guest experience.
Using smart cards to store hotel guest loyalty points is a secure and convenient way to increase customer loyalty. Smart cards are more difficult to counterfeit than traditional paper loyalty cards, and they can be used at a variety of businesses, not just hotels.


Amenity Access
If you have areas of your hotel that are off-limits to the general public, you can use smart cards to give your guests access. For example, you could use hotel smart cards to give guests access to the pool area or the fitness centre.
This information can be useful for security or marketing purposes. For example, if you notice that a particular guest uses the fitness centre more often than others, you could reach out to them and offer them a discount on their next stay.
Another benefit of using smart cards is that they add an element of exclusivity when staying at your hotel. When guests see that they need a card to access certain areas of your hotel, they'll feel like they're part of an exclusive club. This feeling of exclusivity will likely lead to repeat business from your guests.
Finally, using smart cards for hotel amenity access is a great way to improve the overall security of your hotel. By restricting access to certain areas, you can deter potential criminals from targeting your hotel. And if there is ever an incident in a restricted area, you'll be able to quickly confirm the identity of which guests were present thanks to the hotel's smart card system.


Improve Your Customer Service with Hotel Smart Cards
There are many ways to use smart cards to improve hotel services. From streamlining the check-in process to providing access to additional amenities, smart cards can make life easier for both hotel guests and staff members. If you're looking for a way to improve your hotel's efficiency and guest satisfaction levels, implementing a hotel smart card system is a great place to start.
Hoteliers often have many options to choose from when it comes time for them to make a hotel smart card purchase. Luckily, our team is always ready and waiting with expert advice on which card will work best in your situation.

We're experts at finding solutions tailored specifically towards helping hotels like yours get everything they need without breaking their budget. So don't hesitate to contact us today so that we can guide you through all of these choices until you find the perfect solution that's just right for your hotel.