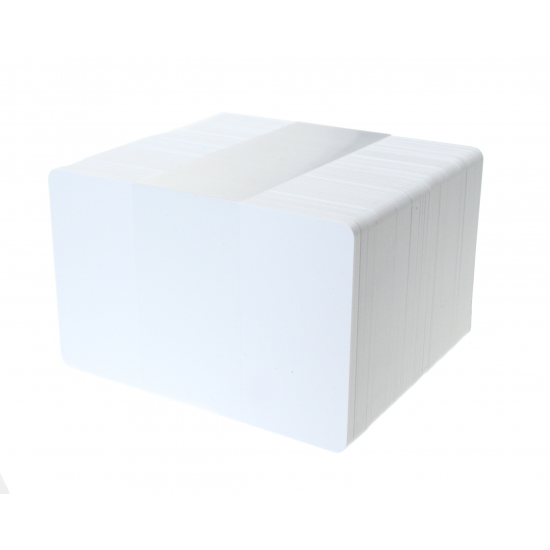 MIFARE Classic® EV1 1K PVC Blank White Antimicrobial Card
These MIFARE Classic® EV1 1K Antimicrobial PVC Cards have a high-quality PVC core with an antimicrobial overlay.
They are manufactured in the same way as a standard card but with an extra additive introduced to the overlay of the card. This additive, a silver based nano-technology stops the growth of bacteria in three ways; it ruptures the bacterial cell membrane, immobilises the bacteria by depleting oxygen levels and destroys the reproductive receptor. Silver, used extensively in the medical industry for many years, is sustainable, offers superior durability and bacteria does not develop resistance, unlike some of the non-silver antimicrobials.
All cards are quality checked in each stage; materials, specifications, collation, lamination, cutting and a final QC at the end including a 100% chip test. Cards contain a full copper wire antenna to give excellent read distances in the field.
NXP MIFARE Classic® EV1 1k is very popular as a multi-application card for physical access control, cashless vending, car-parking, and transport across businesses, leisure/sports clubs, education, and event venues.
Specification
Form Factor
Card
MIFARE Range
Classic/Standard
Silicon Manufacturer
NXP
Brand
MIFARE®
Interface
Contactless
Memory Size
1 kB
Operating Frequency
13.56MHz High Frequency
ISO Standard
ISO 14443A
Weight
6 Grams
Dimensions
86mm x 54mm x 0.8mm
100+ £0.49
500+ £0.49
1000+ £0.48
5000+ £0.48
10000+ £0.48
25000+ £0.47
Model:

C-M115-PCG

Dimensions:

86.00mm x 54.00mm x 0.80mm

Availability:

DISPATCH BY 01/12

MIFARE®
This product has a minimum quantity of 100