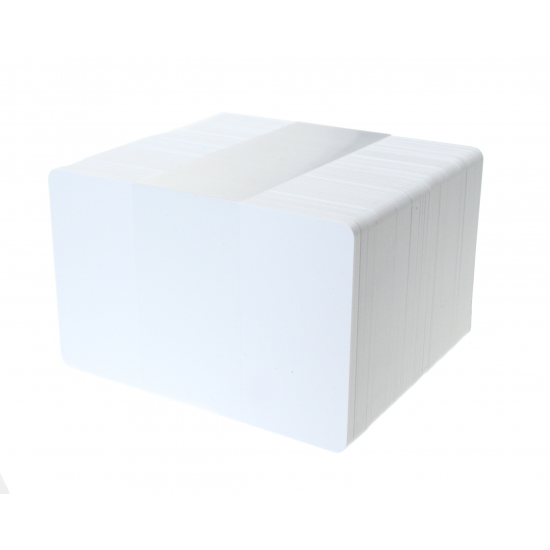 MIFARE® DESFire® EV2 4k White PVC Cards, Gloss Finish
These MIFARE® DESFire® EV2 4k PVC ISO-Sized Cards have a high-quality PVC core and overlay giving the very best results when personalising a card with a standard card printer. They come in a gloss finish to further help with personalisation.
All cards are quality checked in each stage; materials, specifications, collation, lamination, cutting and a final QC at the end including a 100% chip test. Cards contain a full copper wire antenna to give excellent read distances in the field.
MIFARE® DESFire® EV2 4k was the second version in the DESFire® family that introduced new features along with enhanced performance. This includes Common Criteria EAL5+ such as used in banking.
The card is still designed as a secure multi-application card for use in transport, physical access control, cashless vending, car-parking, leisure/sports clubs, education, and event venues. It is compliant to ISO/IEC 14443A and uses ISO/IEC 7816-4 commands. This version has a 4k Byte memory with an upgrade to virtually no limitation on the number of new applications with up to 32 files per application.
Key features:

ISO/IEC 14443A / ISO/IEC 7816 compatibility

Write Endurance >500,000 cycles

Common Criteria Certification: EAL5+ on hardware and software

Flexible file system with limitless applications (up to 32 files in each application)
Personalisation Options (on request):
Chip encoding
Full colour or single colour printing at the time of manufacture for a bank quality finish
Card Numbering
Card Personalisation including employee details, photographs etc
Card Fulfilment and Mailing options

If you need more information, please see the attached datasheet, or contact a member of our sales team.
Specification
Form Factor
Card
MIFARE Range
MIFARE DESFire
Material
PVC
Silicon Manufacturer
NXP
Brand
MIFARE
Interface
Contactless
Memory Size
4 kB
Operating Frequency
13.56 MHz
ISO Standard
ISO 14443A
Weight
6 Grams
Dimensions
86mm x 54mm x 0.8mm
100+ £2.25
500+ £2.22
1000+ £2.19
5000+ £2.14
10000+ £2.14
25000+ £2.08
Model:

C-M341-PCG

Dimensions:

86.00mm x 54.00mm x 0.80mm

Availability:

DISPATCH BY 01/12

MIFARE®
This product has a minimum quantity of 100